Modi Returns – Congratulate and Wish Narendra Modi on the historic victory
QatarIndians.com team congratulates and Wish Prime Minister Shri Narendra Modi and also his team on the election victory. Look forward to greater success, peace, and prosperity under his leadership.
The 2019 election verdict came in stronger than the average of exit polls, with the NDA tally aggregating at 337 seats (as of 1630 hours IST), which resoundingly paved the way for Modi govt 2.0. After Jawaharlal Nehru and Indira Gandhi, Narendra Modi is the only PM to return to power with full majority.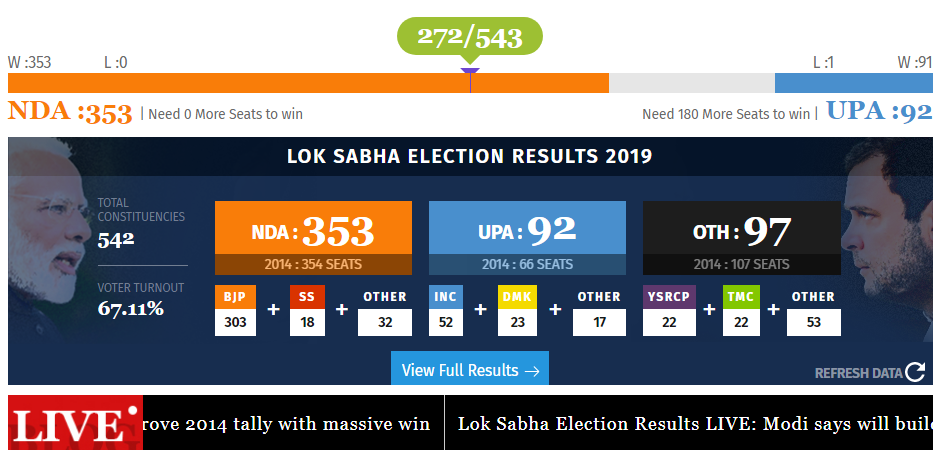 Modi 2.0 Highlights:
Modi 2.0 – The first prime minister to return to power winning a bigger vote share for the party and also only PM to return to power with full majority in the house of parliament (after Nehru and Indira Gandhi)
More than 41% of total votes polled for BJP
The BJP won 63 of the 65 seats in Madhya Pradesh, Rajasthan, and Chhattisgarh where it had lost the Assembly elections to the Congress just six months ago
Nifty touched 12,000 and also Sensex reached 40,000 – Lifetime highs on Thursday
In his victory speech, Narendra Modi described the "historic" election as a victory of the people and also an event for the world to admire and applaud.
"This is the biggest event in the democratic world. The import of this victory will be recognised across the globe. This was an election fought and won by the people of India. The sentiment of the people is a guarantee for the bright future of India. I congratulate all the victorious MPs, whichever party they belong to and whichever State they belong to. I congratulate the winners in the Assembly elections. The BJP is committed to the Constitution of India and federalism. I assure the winners in Assembly elections that the Centre is a party to the progress of their States," said the PM, tearing up and choking at least thrice during his speech.
Modi also made a pledge, "I will not do anything with bad intent, I will not do anything for myself. Each second of my day, every particle of my body belongs to the country."
Image Credit: cnbctv18.com
Like this article? Share it!